New: Live Search powered by Adobe Sensei
Fulltext search is one of the essential elements of a quality e-shop or B2B portal. Thanks to the connection with Adobe products, Magento has the capabilities of a global enterprise segment. Adobe brings out-of-the-box integration with Live Search powered by Adobe Sensei for Commerce Edition.

Live search with artificial intelligence
In today's world of online shopping, consumers mostly want to quickly and easily find what they are looking for. For entrepreneurs in e-commerce, a quick search can easily become a leading competitive advantage.
An Econsultancy study has found that effective online shopping is not only an essential aspect of shopper interaction but can also provide up to 50% higher conversion rates.
Adobe is coming up with a new option called Live Search powered by Adobe Sensei and falls under the already well-known and highly effective marketing tool Adobe Sensei.
How does Live Search work?
Adobe Sensei uses AI and machine learning to help achieve better results. This method of searching offers merchants so-called "searchandising" thanks to which it is possible to provide customers with lightning-fast search results. In addition, over time, the search will become smarter (machine learning), based on ongoing analyzes of shoppers' behavior using artificial intelligence.
Live Search powered by Adobe Sensei brings a lightning-fast, super-relevant, and intuitive search environment to e-shops.
Live Search powered by Adobe Sensei works on a similar type of visitor behavior analysis, such as product recommendations. That also makes Live Search an easier-to-implement functionality for Adobe Commerce users (formerly Magento Commerce) who already use the Product Recommendation feature.
Automatically selects the best items as search results
It intelligently arranges products so that the most relevant ones are at the top of the page
The merchant does not have to manually configure facet rules
Helps shoppers: narrow your search faster and get to the products they're looking for easier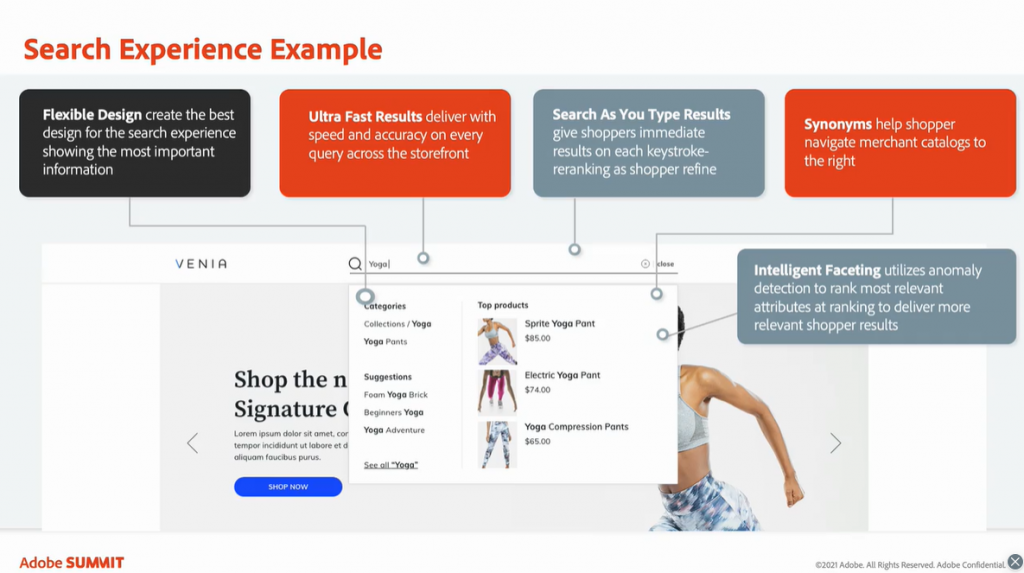 For merchants, this robust and highly customizable solution includes multidimensional, comprehensive searches using synonyms and merchandising rules that make it easier to "strengthen" and "bury" products. For developers, Live Search is a next-generation service with fully headless support directly via GraphQP or the JS SDK provided.