Adobe Summit 2021 Highlights – Part 2
The second batch of information from Adobe Summit 2021 is ready for you right now. The summit took place at the end of April and focused on current topics that move the digital world. The most interesting things presented by professionals in the field in a nutshell. We published the first 5 topics last week, and today we are adding a summary of another 3 lectures.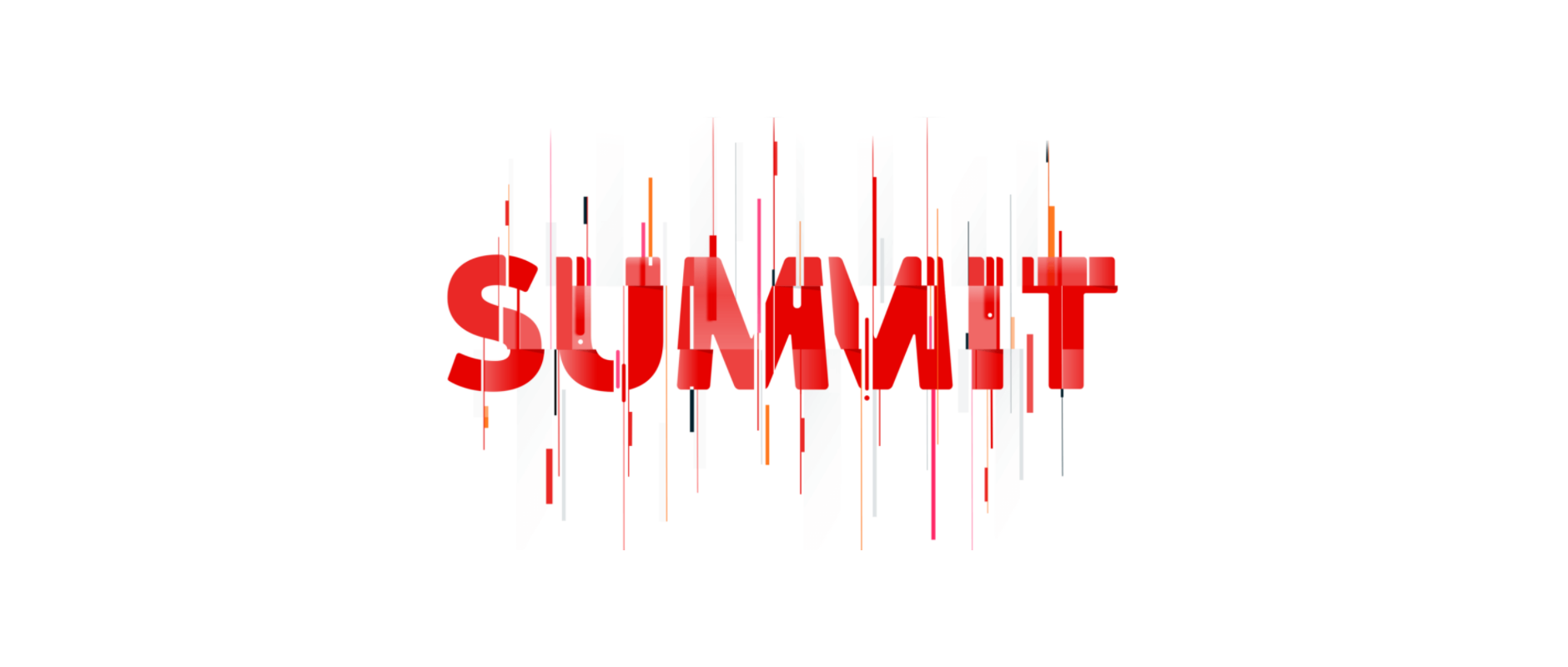 How AI Can Drive Result
Link to the talk
Author: Ryan Green
Ryan Green of Adobe's Product Marketing team spoke about the enormous potential of artificial intelligence (AI) and machine learning. Adobe Sensei is gradually expanding its scope from content and data to business. AI and machine learning help merchants work effectively to create personalized shopping experiences on a large scale.
Which features supported by AI are essential from Adobe's perspective in terms of personalization?
Visual recommendation
Visually similar products are recommended to shoppers. Adobe Sensei or AI in the background searches for visual elements that are related to the viewed or searched item with its attributes and searches for the "best match", which it then recommends. It does not only search for products from the same category, but it also searches for all catalog items that contain a match and offers them. Eliminates manual operation.
Product recommendation
This feature, driven by Adobe Sensei, offers 10 types of product recommendations. It supports the increase in the number of conversions, affects the turnover of the company that uses it, and stimulates buyers to higher activity.
Each Adobe receipt unit requires a different data source and gives various added values. What types of recommendations can we use immediately, and which ones need to be "learned"?
Visual recommendation – immediate recommendations – the system can search based on visually similar attributes.
Trends – It usually takes 3 days before you start collecting relevant data so you can track trends.
Other types of recommendations depend on the behavior of shoppers, website traffic, and real activity of shoppers – the system first learns and only then recommends.
It is expected that it will be necessary to create personalized front-page stores tailored to each user, based on their previous behavior, in the future. For example, Amazon has 40 different recommendation widgets on the front page, and 35% of what we buy on Amazon is based on those recommendations.
Ryan introduced the new Live Search powered by Adobe Sensei
That is the so-called "searchandising", thanks to which it is possible to obtain extremely fast search results. Live Search powered by Adobe Sensei works on a similar type of visitor behavior analysis such as the Product Recommendation.
Automatically selects the best items as search results
It intelligently organizes products – the most relevant at the top of the page
The merchant does not have to manually configure the rules
It narrows the search for shoppers, so they can get to the products they are looking for faster
Live Search powered by Adobe is a lightning-fast, super relevant, and intuitive search environment in e-shops.
…………………………………………
What Are Marketplaces and Should Your Company Implement One?
Link to the talk
Author: Marion Freijsen
With the huge global leap in e-commerce, companies are looking for new ways and ways to reach more customers and make more online transactions. Many companies are trying to expand beyond their offerings in their e-shop. The answer may be marketplaces, but it is necessary to take into account many aspects and choose the right strategy.
In 2019, 50% of all online purchases were made on marketplaces and sales were $ 2 trillion, and by 2024, sales are expected to increase to $ 7 trillion.
Why are marketplaces so popular?
3 key trends on marketplaces:
Search
The first reason is the possibility of a broad search based on product properties and attributes. Consumers prefer "unbranded" searches. The buyer will thus receive a complete offer of what is available on the market based on the required parameters.
Massive relocation of B2B companies to the online world
Last year, many B2B companies had to enter the online world due to a pandemic, a "traditional" form of operation based on personal relationships was not possible and many of these companies needed help with the distribution network and reaching customers. Entering marketplaces has not only helped them in this regard but has expanded their scope from B2B to B2B2C.
Millennials
Another reason for the growing popularity of marketplaces is a strong group of millennials who are used to shopping online, and this group is currently gaining the position of shoppers or decision-makers. 26% of all shoppers today are millennials. It is the first group that grew up in the age of the Internet, they are used to it, they use it in their personal life and they transfer this habit to business. 97% of millennials buy their personal belongings through marketplaces.
Is it advantageous to join existing marketplaces or build your own?
Many companies create an online store that adds to Amazon, Alibaba, or another marketplace. But which strategy is right for the business? Comfort or control?
Comfort
Entry speed with limited settings required to open a store
No worries about creating payment options, returning goods, or shipping
Easy acquisition of new customers
Control
Limited ability to define the audience and limited focus on the field of business
Amazon, or any other marketplace, will build a relationship with your clients
Zero audience/customer data – customer journey, preferences, behavior, etc.
If a company decides to build its marketplace, it is necessary to build a very good strategy and choose a suitable platform. The advantage of our own over entering the existing marketplace is that we have customer data, we can communicate with them directly and we set our preferred customer journey.
Defining the architecture of your marketplace has 4 key questions:
Do you have one or more data sources and streams?
Do you have one or more e-commerce systems?
Do you have one or more payment methods?
Do you have one or more modes of transport?
4 simple questions – 16 different architectural solutions
Marion gave several examples of marketplaces with different architectures and at the end of the lecture summarized what is key:
Whether you join an existing marketplace or create your own – marketplaces are here and will remain part of the electronic world and play a big role in it.
Be where your customers want to be – and see how it benefits your business.
Simply find another / new channel to interact with your clients and increase your turnover and secure your market position.
…………………………………………
Extending Magento Commerce with Adobe I/O
Link to the talk
Authors: Nishant Kapoor, Igor Miniailo
Nishant and Igor introduced how Adobe Commerce (formerly Magento Commerce) is moving towards a microservice architecture. Why a new scalability paradigm is necessary to ensure that any upgrades are seamless with the new architecture. In their presentation, they mentioned how Adobe Commerce allows marketers and developers to expand business opportunities with their business logic, enriched with interesting content, and integrated with other systems or tools.
At the beginning of the entire presentation, Nishant introduced what extensibility means in the Adobe / Magento connection – how it works now and where Adobe is heading for the future.
Adobe Commerce Extensibility – Present
You can update the base platform code and add customizations that run inside the platform code
Extensibility of Adobe Commerce – the future
With micro-services that can be easily adapted to support complex multi-channel scenarios and quickly adapt to a changing market
Extensibility of Adobe Commerce
Adobe will focus on the following 4 key areas within the scalability of the system:
UI extensibility
Possibilities of expansion and development of the main page of the e-shop independent of the backend and middleware using PWA Studio.
API extensibility
Extending the GraphQL & REST API layer by developing a graph data model and running lambda functions directly from the graph layer.
Powerful middleware
Connect all merchant systems with Adobe Commerce using Adobe middleware and a set of application connectors built on Adobe I / O.
Extension of core services
Opportunity to extend the basic capabilities of the platform by overriding the default behavior with your business logic running in Adobe I / O.
In his professional part, Igor presented a functional decomposition of what the transition from a monolithic architecture to the architecture of microservices will look like. He showed what the GraphQL schema will be like in the microservice architecture and described in detail the cloud-native extensibility with Firefly.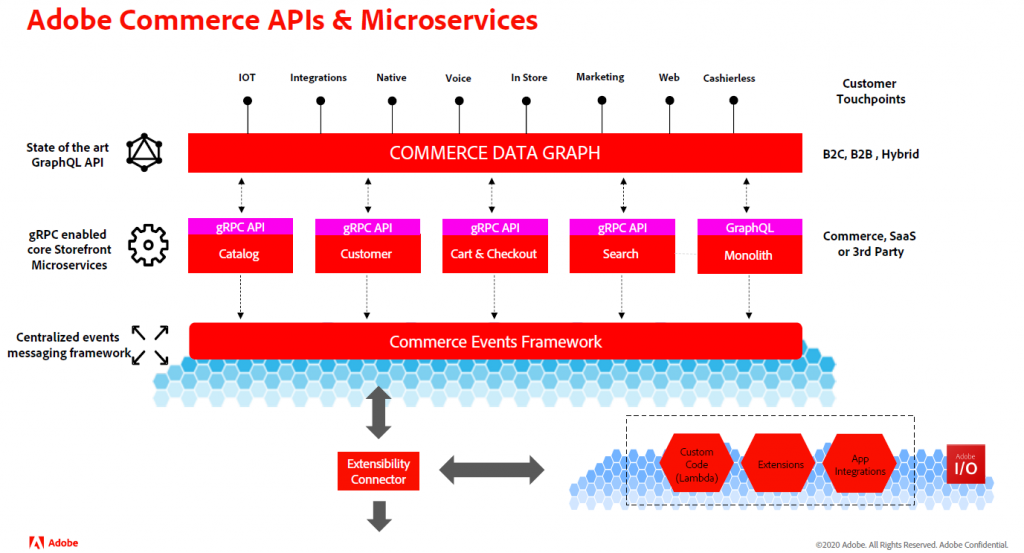 Specifically, this presentation was more technical, focused on developers, enriched with many diagrams and graphs, and therefore we recommend watching it. Worth it! 🙂