Personalization in B2B e-commerce increases customer loyalty.
Why does it worth investing in e-com technologies? That can provide your customers with a better shopping experience and increase your turnover. The last year has shown us how important e-com is and how crucial personalization is.

What does personalization mean in e-commerce?
It's about tailoring the site to each user. Everyone sees the content on the web that interests them the most and is most relevant to them.
Personalization is increasingly important for merchants who strive not only to engage shoppers but also to increase repeat purchases, support sales, and increase conversions. It comes in many different forms – from personalized product recommendations, through email marketing, to gamification.

80% of shoppers prefer to buy from a company that offers personalized shopping experiences. (Epsilon)

Personalization in B2B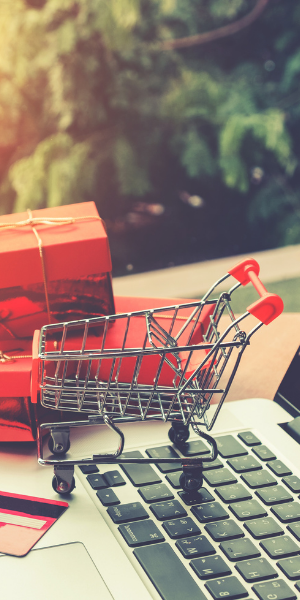 B2B e-commerce has grown significantly in the last year and exceeds B2C worldwide. However, when it comes to functionalities and the experience that the customer gets from the purchase, he still lags behind B2C. B2B shoppers' expectations are shaped by B2C experience. And this is a huge opportunity – to get out of the average and stand out among the others.
Personalization was previously considered only a B2C domain. Mainly because B2C customers are often influenced by emotions when shopping and do not follow so much logic. Their online purchase is often fast, impulsive, and one-time. B2C customers were ideal for personalized marketing focused on their feelings or personality traits. Today, however, the driving force behind the customer experience is as important in B2B as it is in B2C.
Of course, it is also good to mention some differences between the shopping groups of both segments. In B2B, for example, several individuals are often involved in the purchasing process, and their purchasing decisions tend to be more logical. They need to be sure that they are in the right place to solve their need or problem. For a B2B customer, the purchase may take longer, but the advantage is that it can become a repeat client with large orders for a long time. The main goal is to enable B2B clients to shop online. Provide them the same experience as B2C. That can lead to a more convenient and faster purchase and thus increase customer loyalty.

What personalization tools and functions does Magento offer for both B2C and B2B?

Adobe Target
It is an automated e-shop personalization solution that customizes content through testing. It uses AI and machine learning to provide better CX and increase conversions.
Adobe Target creates customer profiles that are used for personalized services across channels, regardless of which channel customers come from. That increases customer loyalty. This technology manages data from all sales and marketing channels and creates comprehensive reports. With a shared profile, it provides a consistent and customized environment throughout the customer journey, even as customers change channels.

Adobe Sensei
It is a combination of artificial intelligence (AI) and machine learning. It allows you to make better decisions for targeted marketing. It is the use of AI and machine learning that serves several practical tasks – obtaining detailed information about users and their behavior, more creative solutions, speeding up individual steps and workflows, and making decisions in real-time. Adobe Sensei enhances the ability to create and deliver personalized services that anticipate customer needs.
Adobe Sensei is the driving force behind the Product Recommendation feature. That is a beautiful example of a powerful personalization tool that can help you increase conversions, revenue, and stimulate shopper engagement. It offers 9 types of recommendations for your customers:
Most viewed

Most purchased

Most added to cart

Recommended for you

Viewed this, Viewed that

Viewed this, Bought that

Bought this, Bought that

More like this

Trending

What else does Magento Commerce offer in the foundation for B2B in the field of personalization?
Below you will find a few selected features, and here you will learn about others that can move your business forward. A large number of other functionalities, in addition to the personalization, that Magento has at its disposal, will provide your customers with a unique shopping experience.

Customer groups
Magento Commerce allows you to offer different products and prices according to customer groups or a shared catalog. Thanks to the classification of customers into groups, it is possible to determine what discounts are available for them and which tax class applies to the order.
Shared Catalogue
For B2B, Magento Commerce offers the ability to maintain shared catalogs with its prices for different companies. In addition to the standard master product catalog, it provides customers with access to two types of shared catalogs with different pricing structures.
Targeted segmentation
You can optimize your marketing activities with dynamic content, promotions, and banners based on features such as customer address, order history, or shopping cart content.


Do you need a powerful and personalized e-shop? Contact us and our experts will be happy to help you.