Magento / Adobe Certifications close-up
The expertise of Magento specialists is proven by the certification that they can obtain by successfully passing the Magento exam. We have interviewed our colleague Marek Vít about the certification and complexity of the Magento Solution specialist / Adobe Certified Expert – Magento Commerce exam.

Only the real experts will get certified!
Marek Vít is one of them. What do they need to know to pass a demanding test? In general, to successfully obtain Magento certification, you need to know the functionality of Magento 2, to be able to optimize the use of native features and avoid unnecessary customizations. There are several areas of competencies required: eCommerce, Magento Architecture, Magento Admin & Storefront, Business & Applications, and Catalog management.
Marek recently obtained the Magento Solution Specialist certificate (newly Adobe Certified Expert – Magento Commerce), so he successfully passed one of the most comprehensive exams. To give you more details about the certifications, we talked about them with Marek.
……………………………………..
Marek, you recently earned a Magento Solution Specialist certification. Was it difficult to pass the exam?
Both the preparation and the test itself are challenging. I would consider it one of the most challenging tests I have ever passed.
How does such a certification exam work?
It is possible to take the exam online or on-site, ie directly in the test center, of which there are several in the Czech Republic. I decided to take the test at the test center. The exam itself consists of 60 questions, to which there are one or more correct answers. The test is in English, and there is a time limit of 2 hours to complete it. I didn´t find the exam simple. The questions are very complex and emphasize not only the knowledge of the system itself but the skill of using it in practice. One of the typical questions may be, for example: "The customer operates his e-shop in the Czech Republic, where he sells drugstore goods. He would also like to start offering office supplies, both in the Czech and German markets. How many websites, stores, and store views does Magento have to be set up for? " Therefore, it is necessary to be able to advise customers in all areas, including expansion issues. But some questions are not easy to prepare for, such as Magento Cloud administration or Magento Business Intelligence. He who does not have access to the given services and cannot touch them is dependent only on theory. Practical experience with Magento and its services is essential for passing the exam.
What exactly does this exam focus on?
The certification I received is focused on a comprehensive knowledge of the Magento e-commerce platform from the perspective of a Solution Specialist. Thanks to a thorough knowledge of Magento's capabilities, from the features and their settings to the integration with various external ERP, warehousing, or monitoring systems, the graduate should be able to recommend to the customer the most suitable solution to suit his requirements in all directions.
What does one need to know to get certified?
You need to know the features that Magento offers in both versions, which means Magento Open Source and Magento Commerce, and other services, such as Magento Cloud or Magento Business Intelligence. You need to know the connection to monitoring systems such as Google Analytics, as well as the use of APIs for integration with ERP and other systems. Therefore it is a comprehensive knowledge not only of the system itself but also of its applications possibilities in the entire e-commerce ecosystem. There is a clear need for practical experience with Magento.
Within specific areas, this includes knowledge of the Magento architecture, such as working with the command-line interface (CLI), the ability of the installation of the third-party modules, knowledge of the system basic structure and its functions, such as API, Cache, or indexing. It is also necessary to know very well the possibilities of Magento administration and the manifestations of individual settings on the frontend. Not only can you set various functions, but you can also find out why, for example, some settings are not written correctly. In terms of customer requirements, it is necessary to be able to imagine how it could work within Magento. Which features to use to cover them and where to look for other solutions – third-party modules or custom development. It is essential to know how to assemble the individual parts of e-commerce within one platform into an effectively functioning interconnected unit. The solution specialist must be partners with obviously demonstrable expertise in this regard, whether it is a catalog and various types of products, promotions and their almost endless setting options, order management from creation through modifications to complaints and returns, customer management, or the reporting.
Adobe offers a wide variety of certification programs. They professionally move up individuals and also the whole companies for which the certified experts work. What can a client gain from certifications?
More efficient upgrades.
Adherence to Magento code standards.
Fewer bugs and better compatibility during the upgrade process.
Better security.
A deeper understanding of best practices ensures compliance with safety instructions and regulations.
Dexterous architectural decisions.
Migration, integration, and configuration of the tailored solutions to effectively deliver website architecture to business needs.
Knowledge of Magento components to identify potentially affected features speeds up troubleshooting.
Advanced knowledge of site customization and its basic features improves development and compliance while performing optimal performance.
There are several official Magento 2 certifications available.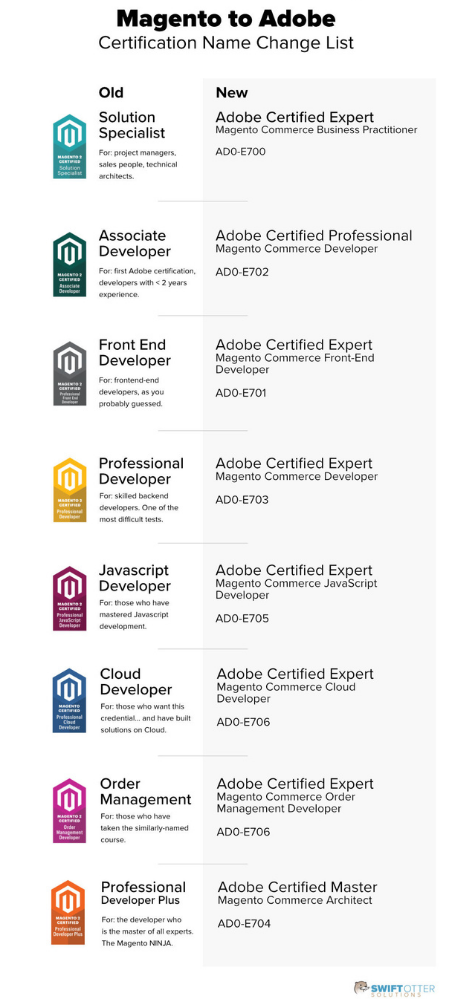 What was your path to obtaining this certification? Did you have to "renounce" something?
It was a long journey. I gradually prepared for the exam in waves. I studied intensely practically every day last month. Several years of experience with the Magento system were invaluable. In the past, I worked first as a developer and then as a business analyst. Several times in my life, I have come across the claim that a person acquires expertise only after years of practice. I always considered it exaggerated. However, I must admit that this statement has been confirmed to me now.
MageXo places great emphasis on educating its employees and supports them in this activity as well. Thanks to that, I had a part of my working time set aside for preparation. But I must say that especially before the exam, I exchanged my evening program for studying Magento. To sum it up, these are higher tens of hours of study with two years of experience connected by very important experiences from everyday work.
What does it mean to get Magento certification for you and MageXo?
Although I have been working with Magento for a long time and I like it, I initially perceived certification as an obligation assigned to me by my employer. That's how it was in the beginning. Gradually, during the preparations, one realizes that one enjoys studying and discovering the unknown within Magento and that this path is the goal, not the certificate at the end. I no longer perceived it as a certification for my employer, but as a certification for me!
And what does certification mean? It is a confirmation of expertise that opens the door. It is proof of quality and knowledge for clients or colleagues and at the same time, it is a conquered goal in my personal life. A milestone I'm proud of.
Obtaining certification also helps MageXo strengthen its partnership with Adobe (owner of Magento), as well as demonstrate the company's expertise in the e-commerce market.
What does Magento Certification show to clients?
Certification has a significant impact on the company's success in gaining clients. It is a good idea to have a certified developer and solution specialist minimally. This can be a guarantee that the supplier can understand the customer's needs and offer him the most suitable solution. However, Magento sometimes fails to cover all client requirements, and then it comes to third-party modules or their development. However, both third-party modules and custom solutions must go through the hands of an experienced developer.
Do certified professionals affect the status of Magento Solution Partner or Adobe Partnership?
Definitely yes. Adobe has a so-called Adobe Partner Program, within which there is a Magento Commerce partnership in several stages. The number of certifications is one of the conditions for inclusion in these levels. Individual partnerships are described in detail directly on the Adobe website, where it is possible to search for individual partners.
MageXo has the status of Magento Professional Solution Partner and Adobe Silver Partner, thanks to implemented projects and many certified experts.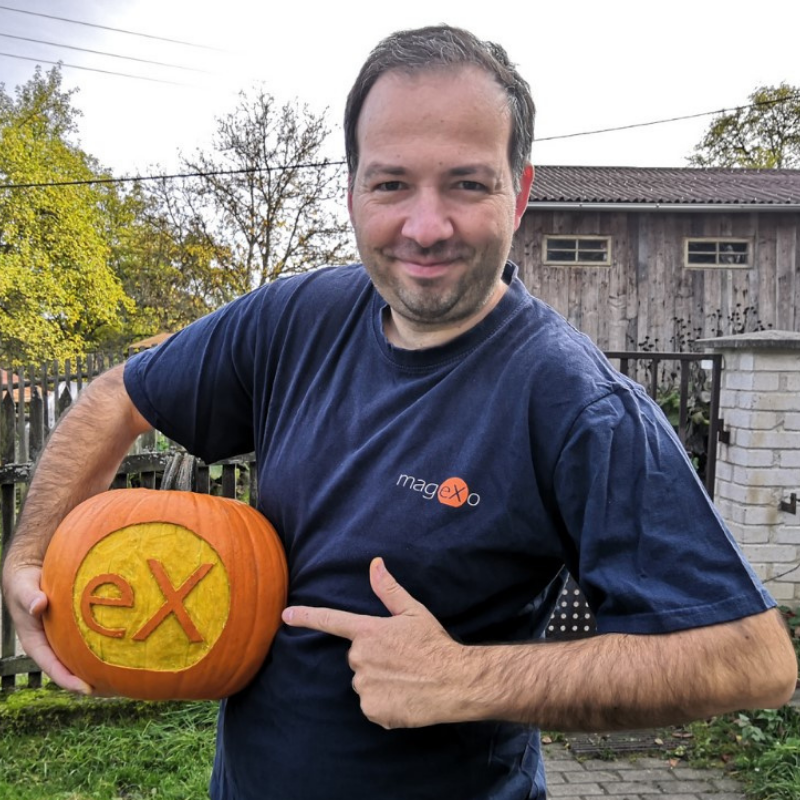 Marek Vít
MageXo man body and soul
After coming to the e-commerce world, he initially worked on the Magento platform as a backend developer. Thanks to this experience and competencies acquired during the youth and adults education, he gradually moved into a business analyst position and a certified solution specialist. Since then, he has been creating analyzes based on an understanding of customer requirements and needs and offering the most suitable solutions for them.
……………………………………..
All in all
If you are looking for a partner with whom you will start building your e-com business, we recommend choosing one who has Magento / Adobe certified experts. This will be crucial for you, as the individual supplier experts who will participate in your e-shop will play an important role in shaping and defining the future of your business. Such a supplier will understand your needs well, propose suitable and effective solutions.